Niagara Falls New Years
Mark Your Calendar for New Years Eve in Niagara Falls
Niagara Falls Ontario Exclusive! – The Niagara Parks Commission (NPC), ET Canada and its New Year's Eve event partners are pleased to announce an exciting roster of musical talent has been assembled for this year's FREE New Year's concert in Queen Victoria Park.
The evening will include performances from top recording artist Demi Lovato, along with Canada's Serena Ryder and Sam Roberts Band, all of whom will provide a full night of amazing entertainment!
Niagara Falls New Years Party!
Ring in 2014 at Canada's largest FREE New Year's Eve extravaganza
Date: December 31st 2013
Times: Starts at 7:30 PM, Televised Live by Global at 10:00 PM EST.
Location: Queen Victoria Park
Price: Free
Hosted by: Hosted by ET Canada's Cheryl Hickey, Rick Campanelli and Sangita Patel, beginning at 10:00 p.m. ET/PT on Global.
Featured Artists: Demi Lovato, Serena Ryder and Sam Roberts Band.
The Niagara Falls New Year's concert in Queen Victoria Park (QVP) draws approximately 40,000 people to the Park, and this year is expected to be no different, so come out and celebrate with us and enjoy two spectacular fireworks displays planned for 8:45 p.m. and midnight that evening. If you can't make it out

Demi Lovato: At only 21 years old, Demi Lovato is one of the biggest names in entertainment. An accomplished singer/songwriter, she's topped the charts with hits including "Heart Attack" and "Skyscraper". In addition, Demi is a judge on the "X-Factor", and a guest star on Glee.
Serena Ryder: This Peterborough native has had an exceptional year. Her latest release "Harmony" garnered her a JUNO Award for Adult Alternative Album of the Year, and her hit "Stompa" has gone 3 times platinum in Canada and was named the MuchMusic Rock/Alternative Video of the Year Award.
Sam Roberts Band: Six-time JUNO Award winners and one of the biggest bands in Canadian rock, Sam Roberts Band shot to fame after the release of their 2002 EP "The Inhuman Condition", which remains one of the best selling independent releases in Canadian history.
Live television coverage of this spectacular show and event will be broadcast on Global Live at 7:30 PM EST. Last year's New Year's Eve broadcast on Global reached 5 million viewers! Over 60,000 people joined us in Queen Victoria Park for this incredible event.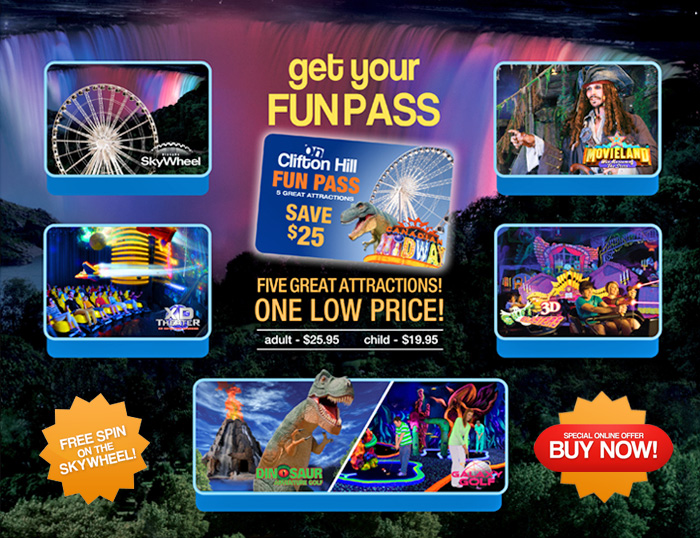 For further New Year's Eve Party in Niagara Concert information, visit www.niagaraparks.com.
Book your Niagara Falls hotel now for the premiere New Year's Eve event in Canada, held in the most recognizable location in Canada - Niagara Falls!

Please note no alcohol is permitted on-site and as always, dress appropriately for all outdoor events. A variety of food and beverage vendors will be available, you won't have to go far for refreshments during this spectacular celebration. And with our outdoor licensed area, everything you need is right here! As always, the presence of security and policing will be on-site to ensure everyone's safety throughout the night.
Build Your Own Niagara Falls Adventure
Book a Room online at the award winning Comfort Inn Clifton Hill and get in on some great discount offers at Niagara's best attractions, entertainment and restaurants!

Simply select the all the offers you want, and the quantity needed, and you'll be all set. Your order items will be held at our front desk until you arrive and check-in. Save hundreds on your next vacation in Niagara!
The Winter Festival of Lights strives to offer events like the New Year's Eve Concert Extravaganza at no charge to the public however it does cost a considerable amount of money to host these great shows so we appreciate the donations made by those attending the New Year's Eve Party. Look for our Donation Barrels placed within Queen Victoria Park and feel good knowing that your contribution helps.
Events